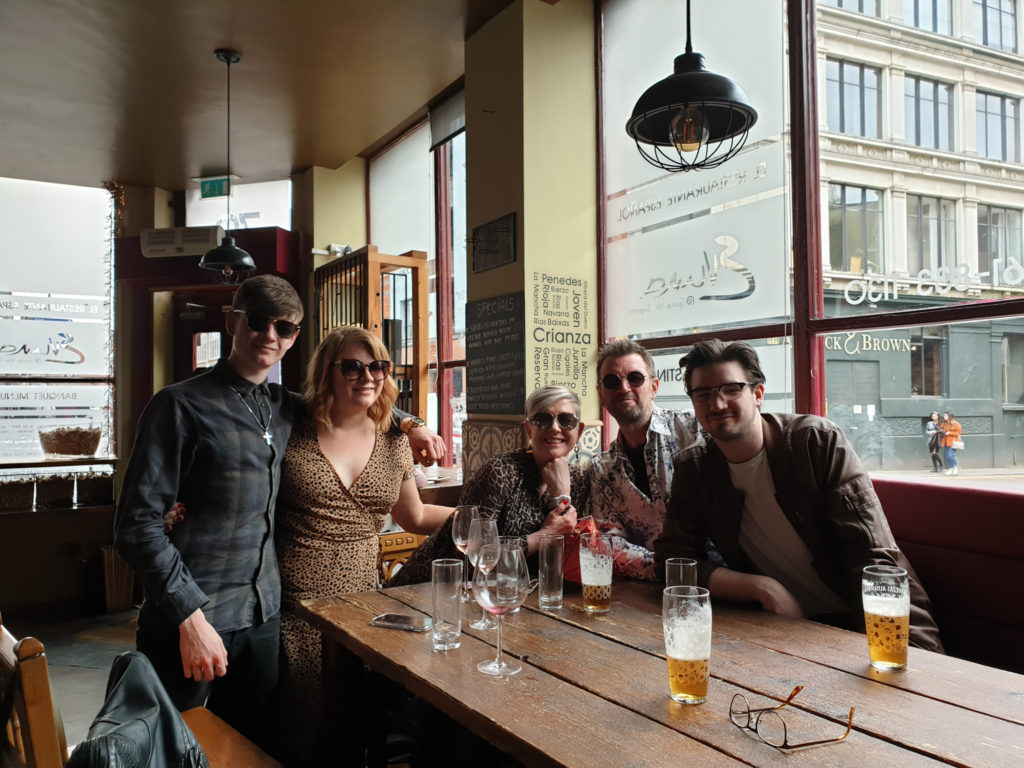 I posted this picture along with several others in a post last night about it being Anne's birthday. I wanted to highlight this image though and explain a bit about why it is significant.
The first thing to note is that we are all there at the allotted time and place. We planned this meal out at Evuna in Manchester's Northern Quarter some weeks before and we have not always executed such plans as well as we did this day. We make do – someone forgot to make the booking, someone forgot the date and arranged something else – and we make the best of it. But not this day, we booked and we all turned up.
We all got on really well. Some of our recent efforts at family social time have been fraught to say the least. No family get on with each other all the time, that isn't how families work and some of the tensions cannot be suppressed, no matter how important the occasion is, and they inevitably spill over. When that happens we make do – we make the best of it.
We are nearly all wearing sunglasses with only Tom wearing my reading glasses. This is somewhat ironic as three of the pairs the rest of us have on belong to Tom. No one is really sure why he owns so many but the really annoying thing is that he looks pretty good in all of them. We were trying to ascertain which pairs suits the rest of us.
There is someone missing. Katy's partner, also called Tom, had his own family commitments that day and was unable to join with us. We enjoy a really good relationship with Tom and he has become a much loved member of the family so we were saddened by his absence but, you know what we did, we made do – we made the best of it.
As punts go this was clearly not most risky but then they don't have to be to blow up in your face. It is almost always easier to avoid situations that might go in a direction you would rather they didn't. But when you take a cha cha cha chance it's invariably worth it.
Except when it isn't, but then you make do – you make the best of things….